Donor gives students and Salem a window to the world at the Hallie Ford Museum of Art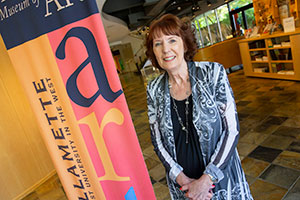 Art lover and education advocate Lynn Ackerman '71 is making a commitment to help introduce future generations of students to powerful cultural experiences at Hallie Ford.
On a guided tour of Willamette's Hallie Ford Museum of Art, Lynn (Callender) Ackerman '71 moves from one exhibit to the next in awe of the talent behind the works on display. In one gallery she takes a moment to admire a 20-foot-long row of larger-than-life ceramic mariachi band players. In another, as she passes a wall of paintings, she steps up close to absorb the details.
"I can't even draw stick figures," she says, laughing about her own lack of artistic skill. "But I love to see what others can do."
While not an artist herself, the retired sales and marketing executive understands the importance of access to the arts and to education in general. That's why—even though Lynn was not previously a member of the museum—she has arranged for an estate bequest to support the Hallie Ford Museum of Art. Her hope is that this will help give future generations of Willamette students and members of the Salem community a window to cultures other than their own.
"It's not just the arts," Lynn says about the mission behind her gift to the museum. "I'm even more interested in encouraging people to go to school."
As the daughter of Depression-era parents who couldn't afford to attend college, Lynn felt the value of education early on. She was grateful to be able to attend Willamette with help from family and a scholarship through the Methodist Church. Lynn majored in sociology but quickly found a love for art after studying abroad.
"I spent one term in London and one term in Paris. Art history classes were held in museums like the British Museum and the Jeu de Paume. Learning by viewing actual paintings rather than slides or photos was a life-changing experience."
Since then Lynn's philanthropic goal has been to give others the same transformational experience she had while attending Willamette. With her estate bequest to Hallie Ford, she will leave a lasting legacy. Along with providing for tours, lectures, classes, workshops, and even bus transportation for grade school children to the museum, her gift will also allocate funding for aspiring student artists.
"To me, the value of a liberal arts education is getting exposure to opportunities and culture you otherwise wouldn't. It helped me in my profession not only because I had a degree, but because I had gone through this experience."
© Pentera, Inc. Planned giving content. All rights reserved.
Disclaimer