James C. "Mr. Willamette" Booth '64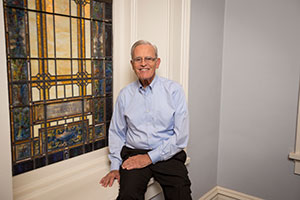 As a member of one of Willamette's most historic legacy families, Jim Booth '64 is proud to continue a long-standing tradition of supporting the university.
The R.A. Booth Society, the university's legacy giving society, is named after Jim's great-grandfather, Robert Asbury Booth, a prominent Oregon businessman and Willamette trustee whose work on behalf of the university over four decades laid the foundation of our endowment.
Following Robert's example, Jim now serves as co-chair of the R.A. Booth Committee for Willamette. "I'm deeply indebted to the university for giving me an excellent liberal arts education—and a social education through my participation in athletics and my fraternity—that equipped me well for life," Jim says. "My four years at Willamette were a transformative experience."
A member of the Sigma Chi fraternity, Jim lettered in football, basketball, track, and baseball, garnering 11 athletic varsity letters—the most in the university's history. After receiving his MBA from the University of Oregon, Jim enjoyed a long career in the commercial printing industry before returning home to Willamette. Serving as director of alumni relations for 20 years and then heading up the alumni travel program, he earned the nickname "Mr. Willamette."
For his service to the university, Jim received the Sparks Medallion in 2009. He was inducted into the Willamette University Athletic Hall of Fame as a team member in 1995 and as an individual in 2009. He's proud that his three sons Jay ('91), Brian ('93), and Jeff ('95) are also Willamette graduates.
Despite his dedicated service, Jim insists, "I've gotten way more from Willamette than I've ever given."
To demonstrate their gratitude, Jim and his wife Sandy created the James C. Booth Hall of Fame Fund, which, when fully funded at endowment levels, will support the Athletic Hall of Fame in perpetuity. Although they have already made several generous gifts to the fund, Jim and Sandy have also made a provision for the fund in their estate plan. By doing so, they became members of the R.A. Booth Society.
Jim now hopes to show other alumni how easy—and rewarding—it is to give back to their alma mater. "Willamette has never been a better, more deserving institution," he says. "It deserves our support."
© Pentera, Inc. Planned giving content. All rights reserved.
Disclaimer