William R. "Bill" Haden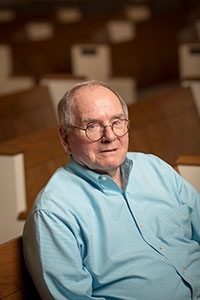 As a retired college president, Bill Haden knows first-hand the impact of philanthropic support to an institution and its students.
"Higher education has become a very expensive proposition, and philanthropy of all kinds and sizes is important," says Bill, who is co-chair of the R.A. Booth Committee for Willamette. "A scholarship gift may make the difference between a gifted student being able to attend Willamette or not."
Bill's career encompasses almost 40 years in educational fundraising and higher education administration, including one year as acting president of Reed College in Portland, Oregon, and, until his retirement in 2006, 11 years as president of West Virginia Wesleyan College.
Previously, he held senior leadership roles in development, alumni relations, and public affairs at West Virginia University, the University of Rochester, the University of Chicago, Reed College, and West Virginia Wesleyan College. During that time, Bill helped plan and run nine major capital campaigns.
He says he's proud to serve as co-chair of the R.A. Booth Committee because "the liberal arts college experience—the idea that you learn to read, write, and think well—has never been more important."
Bill's experience in—and commitment to—higher education also infuses his service as a life trustee on the Willamette University Board of Trustees. He joined the board as a United Methodist Conference lay representative in 2010 and became a life trustee in 2016.
Bill is not an alumnus of Willamette University—he graduated from West Virginia University in 1964 with a BA in political science, received his master's degree in government from George Washington University in 1965, and was awarded an honorary Doctor of Law degree from the University of Charleston in 1999. Yet, Bill has made a very generous provision in his estate plan for Willamette's endowment, and he is an active member in Willamette's legacy giving society, the R.A. Booth Society.
He says, "I made an unrestricted gift to Willamette's endowment because I know from experience how important it is for a college or university president to have the freedom and flexibility to use funds where they're needed."
© Pentera, Inc. Planned giving content. All rights reserved.
Disclaimer