Martin R. "Marty" Wolf '57, JD'60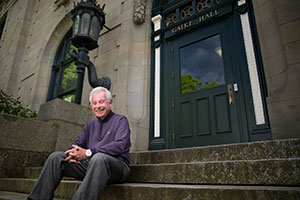 Nearly 60 years after graduating, Marty Wolf '57, JD'60 still feels a connection to his alma mater. That's why in 2017 he established the Martin R. Wolf Scholarship Fund to support students at the College of Law. The scholarship will be partly funded by a $3 million charitable gift annuity that Marty also established that year—the largest life-income gift in Willamette's history.
Although he worked outside the field of law, he credits much of his business success to his legal background—and he wanted to give back.
"The education and discipline it gave me during those three years were two major factors in becoming somewhat successful in other endeavors," Marty says. "I do not wish to let a lack of funds stand in the way of a deserving student, and so if I can help to bridge that 'lack of funds' gap, it is my pleasure to do so."
Victoria Gray JD'19 was the first recipient of the Martin R. Wolf Scholarship. She graduated in May 2019 with a job lined up at Salem firm Garrett Hemann Robertson for the fall.
"Marty Wolf's scholarship provided me with the financial peace of mind that I needed to truly focus on my studies," Victoria says. "Because of Marty's ongoing involvement and presence at Willamette, I felt uniquely supported in my law school endeavors."
Marty especially enjoyed meeting Victoria during the past year.
"Our meeting reassured me that she was deserving of the scholarship," Marty says. "She is a delightful person!"
Marty also supports Willamette as a member of the Law Leadership Cabinet and as a chair of the R.A. Booth Committee. Already a member of the R.A. Booth Society, the university's legacy giving society, he is the perfect representative to help spread the word about including Willamette in estate plans.
"I hope that my gift giving (as well as that of many others) encourages alumni to put Willamette in their giving plans," Marty says. "The reputation today of Willamette College of Law is also their reputation—all of us who can should be proud to support an institution who has given us so much."
For more information about leaving a gift to Willamette through your will or trust or by establishing a life-income gift, contact Cathy McCann Gaskin JD'02 at (503) 370-6492 or cmccann@willamette.edu.
© Pentera, Inc. Planned giving content. All rights reserved.
Disclaimer